Latest Marriage Biodata Format in Words & PDF Formats (2021-22)

A life partner is someone with whom you share your life and spirit. In a world potent of people with varied personalities, habits, and preferences, the search for a mate with a similar personality as yours will never be easy. A successful marriage is determined not by how well they know each other but by how well they complement each other. Marriage is an exciting trip, and an outstanding marriage biodata form is your key to it. Indeed, a biodata for marriage in which you pour your heart out clearly and identify yourself most explicitly sets the road for a successful marriage, and we are only here to make it easier.
When looking for a life partner, the first and most crucial step is to write a good bio about yourself. A basic and straightforward biodata format will boost your chances of being discovered by other parties looking for the bride or bridegroom.
Be accurate and honest in revealing your personal information on your profile. Provide sufficient yet complete information. Indicate your educational and professional qualifications. Giving specifics such as grades or marks earned in high school or college is unnecessary. It is thought that long profiles will dull the readers. Here are some of the most recent marriage biodata files for boys and girls, which you may download in PDF and Word format.
How to Write a Correct Marriage Bio Data Form.
Your marriage biodata form includes your name, date of birth, gender, and other personal information such as caste, religion, parents' details, siblings' details, educational qualification, job, salary, and physical attributes such as height and weight so on.
On top of the biodata format, you must include your contact information, such as your phone number and email address. Attach your most recent passport-size photos to the marriage biodata form.
If you want to define yourself in further detail, (or) if you're going to write about what you are seeking in a lifemate, you can do so in the about me or objective sections. It is always preferable to keep your biodata format as simple as possible and to utilize simple fonts like Arial, Georgia, Times New Roman, Segoe UI, Century Gothic, and so on.
Marriage Biodata in Word Format Free Download
Marriage biodata is a document that is made for the purpose of giving vital information about the person's wife or husband. It includes such information as to names, age, occupation, and qualifications. It is an integral part of the marriage process. Marriage biodata-word format also gives detailed information about their family. Download Marriage Biodata In Word Format Free from below.
Marriage Biodata in PDF Format Free Download
Writing a Hindu marriage biodata is not a simple task. Indians are very rigid in their marriage customs. The Hindu marriage biodata is the first step towards married life. You can write biodata for your marriage on your own or with the help of a friend or someone who knows how to write a Hindu marriage biodata or you can download marriage biodata in PDF Format and fill in the details.
Marriage Biodata Format 1
[embeddoc url="https://aarrulings.in/wp-content/uploads/2022/01/Marriage-Biodata-Format-1.pdf"]
Marriage Biodata Format 2:
[embeddoc url="https://aarrulings.in/wp-content/uploads/2021/12/Marriage-Biodata-Format-2.pdf"]
Marriage Biodata Format 3:
[embeddoc url="https://aarrulings.in/wp-content/uploads/2021/12/Marriage-Biodata-Format-3-.pdf"]
Marriage Biodata Format 4:
[embeddoc url="https://aarrulings.in/wp-content/uploads/2021/12/Marriage-Biodata-Format-4.pdf"]
Marriage Biodata Format 5:
[embeddoc url="https://aarrulings.in/wp-content/uploads/2021/12/Marriage-Biodata-Format-5.pdf"]
This is how you describe yourself in marriage biodata format.
Many people find it very challenging to write the correct marriage biodata format. It is also challenging because you have no idea where to start, end, or include when writing about yourself. But when writing short snippets, you have to be very careful and crisp about your thoughts and what you want. You have to mention your requirements and your personality in a few lines. If you give it in a newspaper or snippet, make sure you keep it concise and clean. Here we have written a few marriage biodata form examples, which you can read and copy the idea for your marriage biodata format.
But if you are not sure how to write a Hindu marriage biodata, it is better to seek the help of an expert in the field. An expert can prepare a Hindu marriage biodata that will highlight your strengths and achievements and can appeal to the girl's family.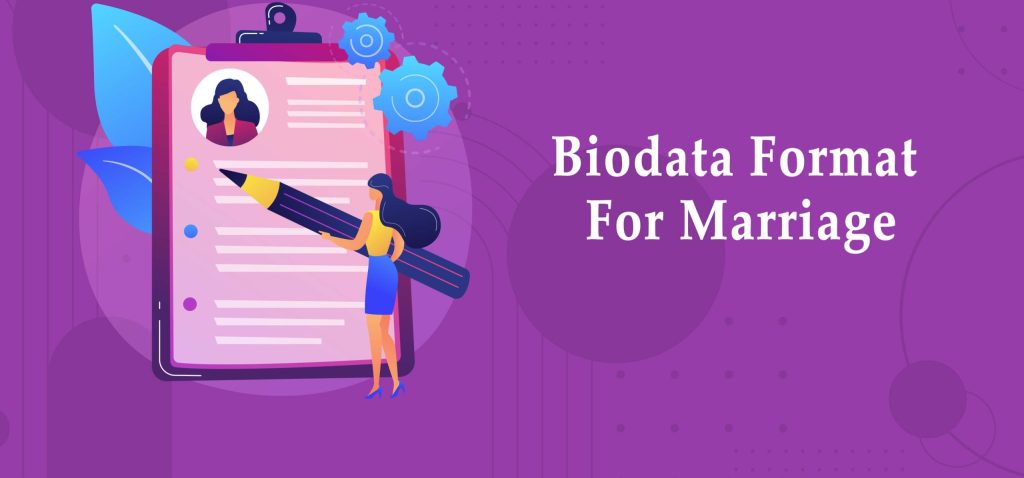 Example 1:
My name is (your name), and I come from a family. I work as a (your pay) at (company name) for a monthly/yearly salary of (your salary). I'm looking for a lovely homey girl who can look after my parents and me. I am a happy and loving person, and I want my spouse to be the same.
Example 2:
An attractive (your designation) from a reputable family is looking for a bride from the same caste and religion. The girl should be pretty, slim, and well-educated. I'm looking for a broad-minded girl who knows how to manage society and family. She should also love traveling as I travel a lot and would love her company for the business trips.
Example 3:
I am an educated girl with high career expectations. I want a groom who can support my career goals and is ready to travel out of the country if required.
Example 4:
A well-educated and attractive young lady looking for a match should be highly qualified, settled, and trustworthy. The man should be career-oriented with a good salary package. Should be down to earth and respect family values.
Example 5:
(Your name),Currently earning six figures per month (your age), seeking an attractive spouse who is a good cook and adaptable nature. Can choose to be a working woman or a housewife. Caste is irrelevant.
Example 6:
I am a soft-spoken, honest, and talented individual. I have a fantastic job, good pay, and a great place to live. My family is my top priority in life, in my opinion. I believe that in 5 years, I will be blissfully established with my children, a wonderful soulmate, and the blessings of our parents and relatives.
Create marriage biodata format Online
Many websites are available that can help you create a lovely marriage biodata format. There are also websites where you only have to fill in your asked information, and your marriage biodata format will get ready in minutes. You can search for that already has marriage biodata templates and then turn them into your marriage biodata form. You get various designs, beautiful page backgrounds, and more when creating online marriage biodata. Choose the template you like and get ready to impress your in-laws.
Why is a proper marriage bio data format required?
You should carefully prepare the marriage biodata form. It is a significant decision in your life, and you are selecting your lifemate on this premise. Not only the couples but also their families become involved in this relationship. As a result, it is best to make your biodata for marriage straightforward, appealing, and uncomplicated. Reading your resume should reveal what type of partner you are looking for and your expectations. Remember to be truthful when creating your marriage biodata. Do not use flattering remarks solely to entice others. When composing and publishing the marital biodata resume, be concise and genuine.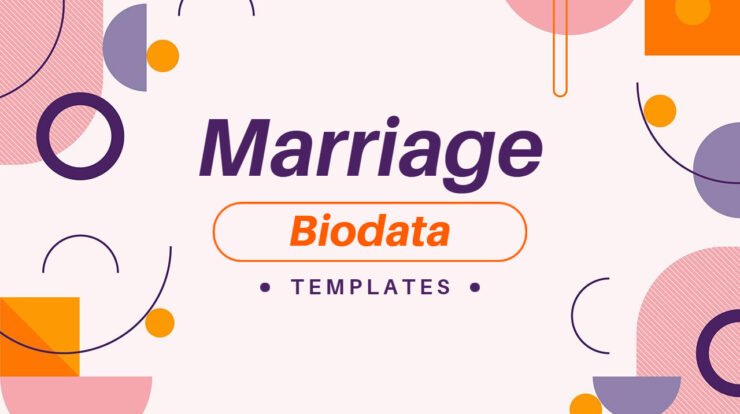 FAQs
What is a marriage biodata form?
A marriage bio data form contains basic information about someone planning to marry. A marriage biodata often includes name, age, date of birth, religion, gotra, education, work details, parent's occupation, siblings' information, and hobbies. Most people include their horoscope alongside their biodata, income, and partner expectations.
What is the importance of photographs in marriage biodata form?
People will look at your photo before reading further details in most circumstances. If your photo is missing, your marriage bio data form may be incomplete. As a result, it is critical to provide a positive image of yourself. Make sure to utilise the coloured one and the most recent photo.
Dress appropriately for getting your picture taken for your marriage bio data form. Do not attempt to modify or apply any filters to your photo. Be yourself.
What all should be included in the marriage biodata format?
Name, age, date of birth, religion/caste, names and occupations of parents, education, profession, salary, and expectations are specific details in a marriage biodata format.
What documents are required for the marriage biodata form?
A marriage biodata format will include basic information such as your name, gender, date of birth, address, parents' names, and email address. You should also have information about your hobbies, passions, skills, and anything else you believe the employer could require to get to know you as a person.
What is the purpose of biodata for marriage?
Individuals or organizations may utilize a biodata for marriage to seek personal information. It is used for searching for the perfect match. The information asked in biodata is frequently tailored to the context of the request.
Conclusion
I hope the information furnished above will assist you in developing a proper and appealing marriage biodata format. You can prepare it with Microsoft Word or marriage biodata format templates online. Suppose you are still having difficulty crafting your marriage biodata form. In such a case, you can seek the assistance of a professional who will produce your marriage biodata in the manner you desire.
Best wishes!