Latest Biodata for Job Formats | Free Download PDF & Word 2021-22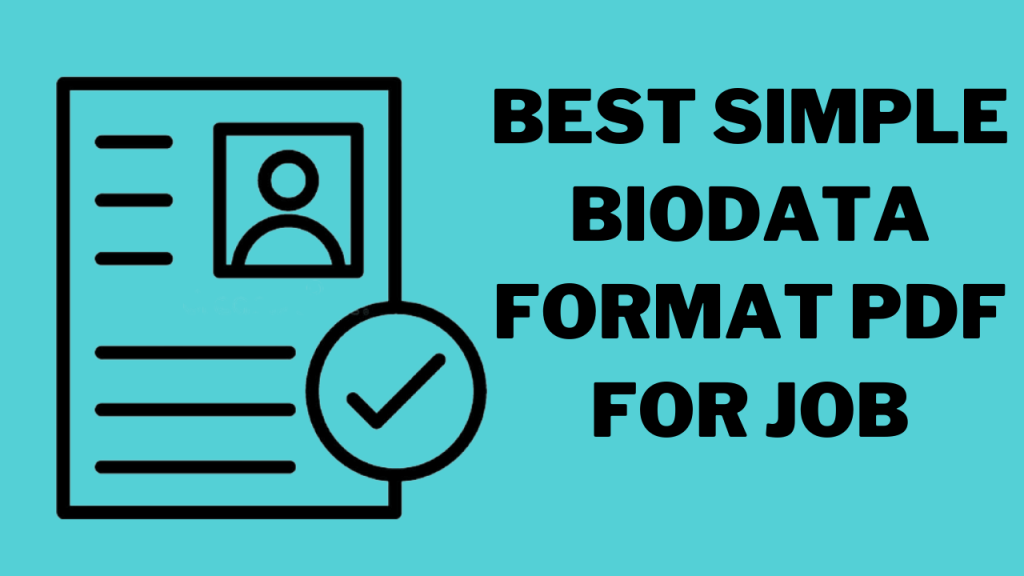 The Biodata for Job Format highlights your historical characteristics and aids in predicting your future performance. Biodata is an abbreviation for Biographical Data. Personal details, gender, religion, race, nationality, date of birth, parent names, height, weight, marital status, complexion, eye colour, contact address, a brief description of educational qualification & professional job history, hobbies, skills, and so on are typically included in a professional bio data. A biodata format is usually one page long, but it can be up to two pages long.
The main goal of a Biodata for Job Format is to obtain you an interview call. After reviewing your bio data, the employer should be interested in learning more about you. Your biodata is your most potent weapon. Please exercise caution when using it. Never include any misleading information in your biodata for job. It will undoubtedly harm you. Your biodata format should have a long-lasting good impact on the reader.
Biodata For Job
Biodata format is a simplified version of the resume format. The job biodata format summarises your biographical facts, school records, and work experience in a streamlined way. You can get accessible blank biodata files here to use when applying for any job.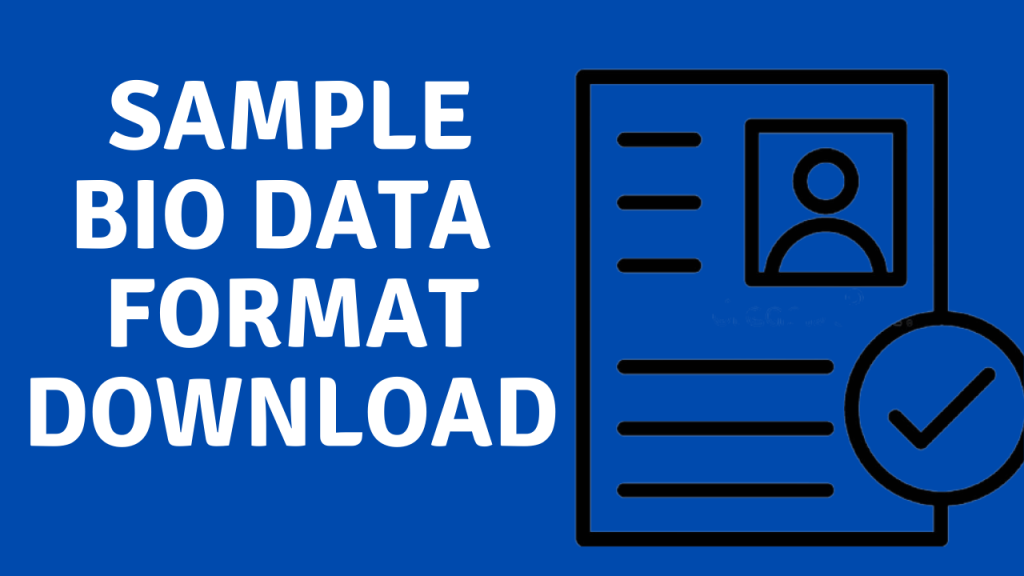 Hire a professional service if you don't know how to produce a biodata for job yourself. You should remember when a design that your biodata format should be impressive. You may also free download our Best Resume Templates in Word Format. These CV templates will assist you in landing a suitable job.
Essential things in Biodata Format
There are numerous approaches to producing a Biodata for job. However, a suitable Biodata Format should include the following information:
Name in full (should be in capital letters) with a family history.
Your most recent photograph and date of birth
Religion and gender
marital status & nationality
Your physical characteristics: height, weight, skin colour, eye colour, and so on.
Contact information (address, phone number, and email address)
Education qualifications in detail (It should be in either ascending or descending chronological order.)
Details about previous employers and work experience summary
Your abilities, sports, interests, and hobbies.
At least two references must always be listed.
Download Top Biodata For Job Format for Fresher Students & Job Application
Biodata Forms are often established Blank Biodata for Job Formats to enter your information. Biodata Forms are typically filled out for government employment applications, matrimonial website registration, school/college admission applications, and so on. You must provide your information such as your name, date of birth, contact address, email address, phone number, qualification, work experience, skills, language knowledge, and IT skills.
Biodata For Job Format 1:
Biodata For Job Format 2:
Biodata For Job Format 3:
Biodata For Job Format 4:
Biodata For Job Format 5:
Before filling up any Biodata for Job Form, thoroughly read the Biodata Format pdf. Make a photocopy of the form and fill it out with your information. Fill up the form with your positive attributes, strengths, and talents. Once you are assured that you have correctly filled out all of the relevant fields on the photocopy, begin filling out the original Biodata Form similarly to the photocopy. Remember that there should be no cut marks or errors on the original Biodata Form. Any filth on the Biodata Form will give you a poor impression.
Free Download the Best Biodata for Job Formats Here.
We've all heard the expression, "your first impression is your last impression." Your biodata for job is your first meeting with a potential employer, a future college or university, and so on. So, how would you like them to remember you? as unclean and disorganized or adequately planned and organized, Companies do not have the time to interview every job application. Only the most impressive resumes are given the opportunity.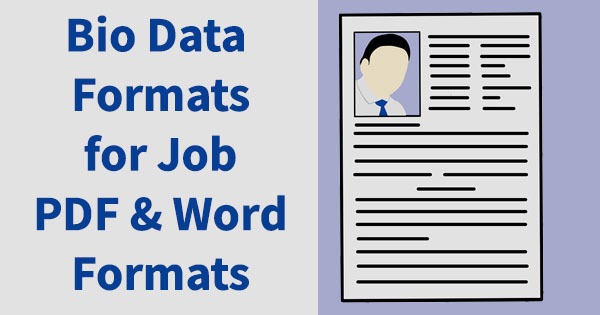 Your biodata for job provides information about yourself to a potential employer. Things you have done in previous jobs, what positions you have held, how effectively you have succeeded in your assignments, and so forth. Your biodata should be clear and concise. It should highlight all of your great qualities and abilities. Remember that your Biodata has only a few seconds to make an impression before it is scraped. Your biodata should tell the company that you are the right person for the job. Consider yourself a product, and your biodata to be your advertisement. If your advertising isn't good, no one will buy from you.
Biodata Formats:
Text/font is the first thing a future employer will notice on your Biodata. As a result, you must choose a suitable font and size for your Resume Format. We recommend Helvetica and Georgia as the best fonts for Resume Formats since they are more readable than any other font. You may use multiple fonts for different sections of your Curriculum Vitae, but try to keep it to no more than two typefaces. Use font size 13 or 14 for the header and 11 or 12 for the rest of the resume's content. Your resume format should include a 1-inch margin around the page and 1.5 to 2 point line spacing. The heading of your CV should be centre aligned, with the remainder of the body positioned to the left.
Prepare Good Biodata for Job.
Biodata for Job formats can get prepared in Microsoft Word and Google Docs. You can download the aforementioned free biodata files in word format and make changes as needed. Here, you can download biodata format pdf and learn how to write your biodata for job.
Tips For Good Biodata Format.
A biodata format should be straightforward, and it should always be kept to a single page so that the interviewer can easily read your information.
Don't use fancy fonts, which will make your biodata look strange. Arial, Helvetica, Georgia, Segoe Ui, and Times New Roman are the finest fonts for biodata.
Never forget to include the contact details in your biodata. Any biodata format must have a phone number and an email address so that you do not miss any employer communication.
You can also learn about bank-related problems Click Here
Learn the Difference between Biodata for Job Format, Resume and CV
People used the term bio data more frequently in the past. However, bio data is a condensed version of a resume. It includes basic information such as your name, date of birth, father's name, gender, educations, and work experience.
CV is an abbreviation used for Curriculum Vitae, a more extended version of biodata. It includes a more detailed version of your study, experience details, and project work.
FAQs
A biodata, also known as biographical data, is a one- to three-page document used while applying for a job. Most parts of your life are summarised in your biodata, including personal information, education, talents, and work experience.
What is the format of bio data?
There is no set structure for biodata; you can be creative in creating your format but keep it brief and straightforward.
How many pages are compulsory to write biodata?
It is preferable to limit your information to one page in biodata format. If you are unable to make changes, you can add another page.
Can I submit my biodata for job instead of my resume?
Yes, you are allowed to send it. It is not an issue. However, if you have the time to produce a CV, it is preferable to create one for yourself.
Conclusion
We have tried to present the best biodata format pdf for all. You can go through the biodata format and create your biodata. Make sure you go through all the tips given when creating a biodata. A good biodata for job will surely get you to earn what is yours. In case of any guidance and queries, you can write to us directly in the comment section below.